Amid Tubbataha brouhaha, militants picket US embassy
Posted at 01/25/2013 10:25 AM | Updated as of 01/25/2013 10:26 AM
MANILA, Philippines – Several members of the militant group League of Filipino Students (LFS) on Friday morning held a lightning rally at the US Embassy in Manila to protest the grounding of a US Navy warship on the Tubbataha Reef.
Some 15 student-activitsts threw red paint at the logo and gate of the US Embassy to protest the destruction of the coral reefs in the United Nations Educational, Scientific and Cultural Organization-declared heritage site by the grounded USS Guardian.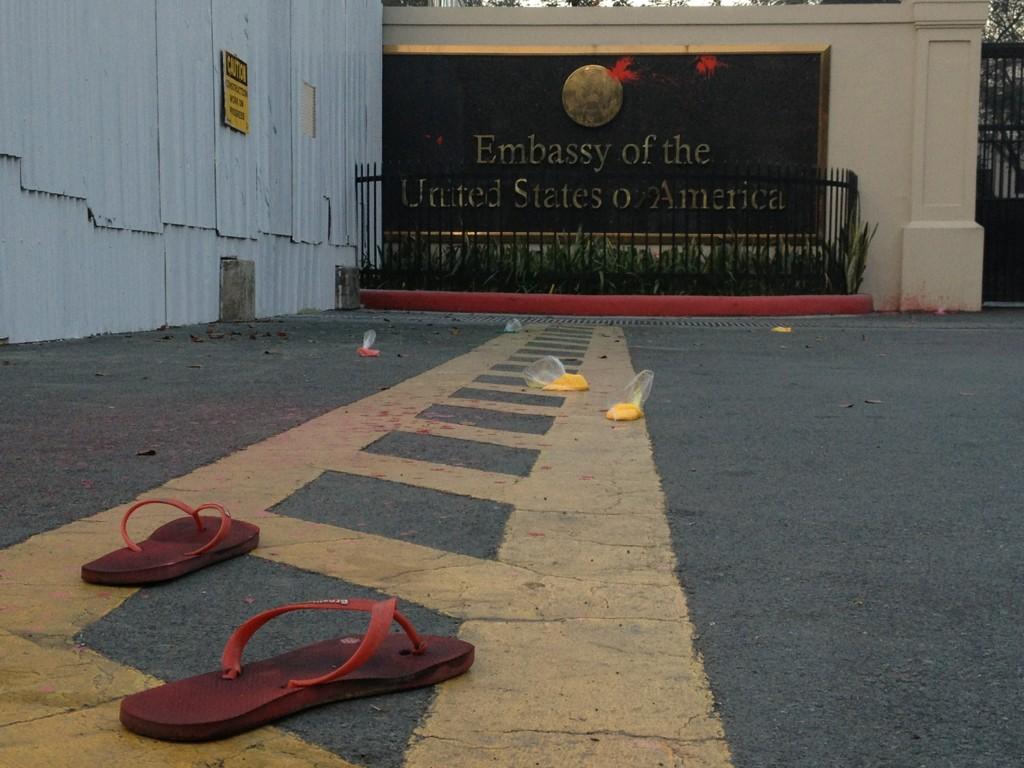 US Embassy logo defaced by activists with red paint. Photo by Noel Alamar, DZMM
The group condemned the Palace's supposed soft treatment to the US Navy over the incident. They also called for the junking of the Visiting Forces Agreement (VFA).
Three Manila policemen were caught unprepared by the lightning rally. They were augmented by additional troops only after most of the rallyists left the area.
Some members of the media were also hit with red paint at the height of the rally.
The traffic in the area was also snarled by the incident.
The USS Guardian remains grounded on the reef. An initial survey revealed that the warship has damaged at least 1,000 square kilometers of the protected reefs. – report from Noel Alamar, dzMM