Malaysian embassy closed due to protests
Posted at 03/05/2013 11:07 AM | Updated as of 03/05/2013 7:51 PM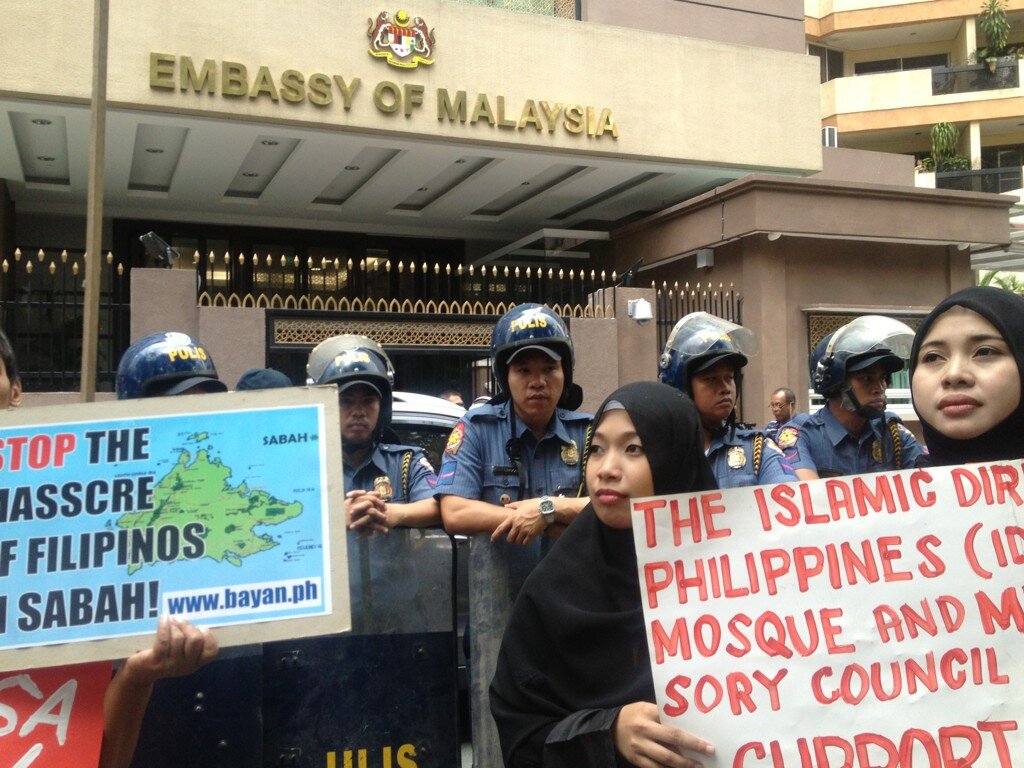 Protesters gather in front of the Embassy of Malaysia in Makati City to call for an end to the violence in Sabah, Malaysia where members of the Sulu sultanate royal army have been holed up for three weeks now to press their claim to the land. Photo by Dennis Datu, dzMM
MANILA – The Embassy of Malaysia in Makati City suspended its operations Tuesday as protesters criticized the tense Sabah standoff that has already claimed at least 27 lives.
The embassy closure occurred the same time the Malaysian troops launched new attacks on the Sulu sultanate royal army who have been holed up in Sabah for three weeks now.
At least 100 Catholic and Muslim protesters gathered in front of the embassy along Tordecillas Street in Salcedo Village. The protesters were calling for an end to the violence, while some were airing their support for the cause of the sultanate in claiming Sabah.
At least 50 policemen and a fire truck were also deployed in the area.
Malaysian troops launched an attack on the royal army on Tuesday, trying to end a standoff on Borneo island after violence in recent days that killed at least 27 people, a spokesman for Malaysian Prime Minister Najib Razak said.
The operation to take over an area occupied by about 180 Filipinos, dozens of them armed, began at 7 a.m. (2300 GMT Monday), the spokesman said. The government sent seven army battalions to the area in eastern Sabah state on Monday to reinforce police.
Two policemen were killed along with 12 militants when Malaysian security forces tried to tighten a cordon around the armed group on Friday. That sparked more violence over the weekend with six policemen and seven more gunmen killed in another area, raising concerns the violence was spreading. – with Reuters