Ex-PBA import loses money, punches cop
Posted at 03/27/2013 7:55 AM | Updated as of 04/17/2013 10:19 AM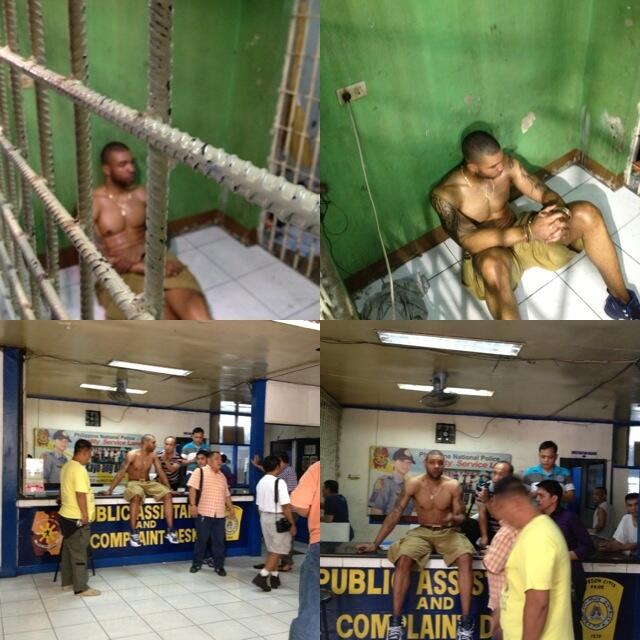 Former PBA import Jamelle Cornley inside the detention cell of Quezon City Police District Station 10. Photo by Johnson Manabat, dzMM
MANILA (UPDATE) – A former Philippine Basketball Association (PBA) import was arrested Wednesday morning after allegedly punching a policeman in Quezon City.
A shirtless Jamelle Cornley, a former import of the Rain or Shine Elasto Painters, was brought to Quezon City Police District (QCPD) Station 10 in Kamuning after allegedly punching PO2 Anselmo Lazatin inside Sir William's Hotel.
According to QCPD Station 10 chief Superintendent Marcelino Pedrozo Jr., Cornley called the police after three female prostitutes stole his cash, amounting to about P60,000.
Lazatin and a certain PO2 Lacdao responded to the incident, only to be met by a disgruntled Cornley.
Lazatin was rushed to East Avenue Medical Center after being knocked down by the 6-foot-5 cager, Pedrozo said.
"Ang narinig natin meron siyang perang nawawala na sinasabi niyang kinuha ng mga babae. So tinatanong natin siya ng maayos, 'di naman siya magsalita ng maayos at 'di makipagcooperate sa pulis. So nangyayari ngayon, 'di natin alam kung lango ito sa alak o lango ito sa droga," Pedrozo told dzMM.
Cornley, for his part, denied he hit the policeman.
"I did not punch anyone. He grabbed me and I shut them. That's what happened," he said.
"I guess I'm more disappointed in the lack of efforts there was to report this issue and support my case. That's what I'm disappointed of."
Pedrozo said they are now coordinating with the US Embassy in Manila and the basketball player's friends and teammates regarding the incident.
Pedrozo assured the player that they are now looking for the women who allegedly took his money.
He said Cornley is facing direct assault charges. The import will also be held responsible for destroying some of the hotel's properties and disrespecting persons in authority.
Cornley said he is not bent on filing counter-charges against the police, and that he only wants to get his money back.
"They can file whatever they want, but we know the truth… I did not hit or push him enough to hurt him… The police had no reason to put his hand on me. I did not hurt him. I did not do anything to him," he said.
"The police can say whatever they want. All I know is this: I have never assaulted an officer. I have never been in jail before. I have no criminal record in the United States or anywhere else."
Cornley is now inside the detention cell of QCPD Station 10 after a brief wrestle with several policemen. Rain or Shine guard Gabe Norwood was among the first friends to visit Cornley in jail.
Cornley, who led Rain or Shine to the championship in the 2012 PBA Governors Cup, is set to leave the country on Sunday, according to Pedrozo. – report from Johnson Manabat, dzMM