Activists dub Mar-PNoy-Binay 'demolition party'
Posted at 09/26/2012 2:01 PM | Updated as of 09/26/2012 2:02 PM
MANILA, Philippines – Militants and student activitists trooped to the headquarters of the Department of the Interior and Local Government (DILG) to protest the violent demolition in Makati City earlier this week.
Militant youth group Anakbayan-National Capital Region criticized newly installed DILG Secretary Manuel Roxas II for allowing the demolition of shanties in Guatemala Compound in Makati and Consular Area in Taguig.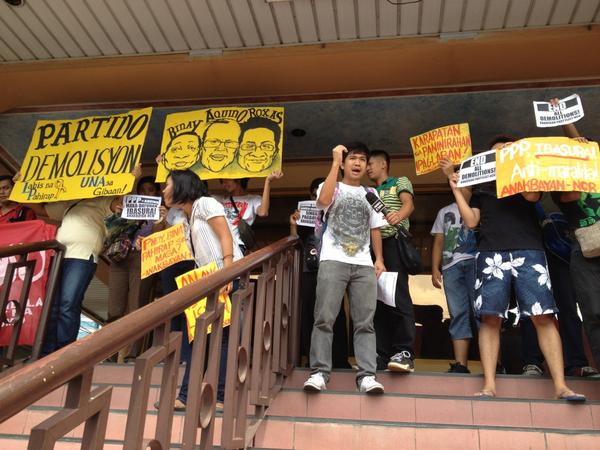 Members of militant Anakbayan-National Capital Region at the headquarters of the Department of Interior and Local Government in Quezon City. Photo courtesy of Johnson Manabat, dzMM
"Less than a month after the appointment of Roxas, two violent demolitions have erupted in Metro Manila. Just 6 days after the forced eviction in Consular Area, Taguig City that resulted in violence, residents of Guatemala a day ago faced the same ruthlessness of the Aquino administration," Anakbayan-NCR Secretary General Dianne Solmayor said in a statement.
The group also tagged the group of Roxas, President Beningo Aquino III, and Vice President Jejomar Binay as the "demolition party" for allowing the successive demolition of shanties to supposedly pave the way for commercial and government projects.
"The three are distinct but not separate. There will be more demolitions to come especially with such alliance and the implementation of Public Private Partnership program and the people will resist and continue to fight the same way residents of Consular Area and Guatemala did," Solmayor said.
"Despite coming from different political parties and the faction inside the administration, Aquino, Roxas and Binay are no different from each other. They all intend to evict families for PPP projects," she added.
The city government of Makati on Tuesday said it will file charges against the Guatemala community leaders who allegedly led the informal settlers to use violence against the demolition team and anti-riot police.