100 families evicted in QC demolition
Posted at 10/16/2012 9:45 AM | Updated as of 10/16/2012 2:12 PM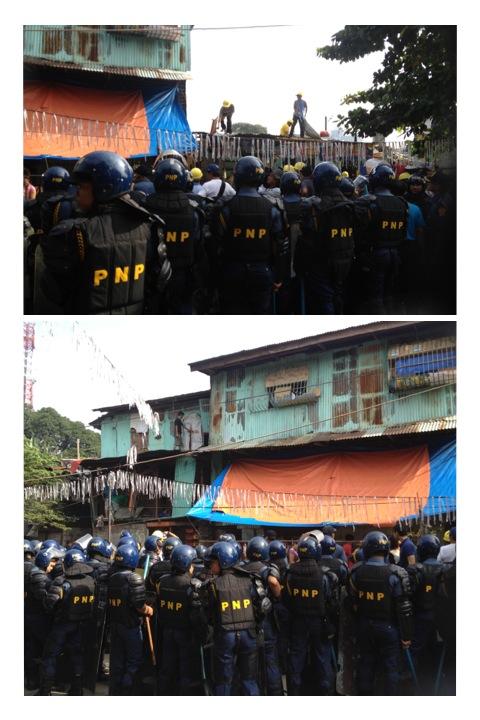 Members of the demolition team removing the illegal structures along BIR Road in Barangay Central. Photo courtesy of Dennis Datu, DZMM
MANILA, Philippines (UPDATE) - About a hundred informal settler families along BIR Road in Quezon City stood no chance against a team of more than 200 policemen and demolition crew that confronted them this morning.
Some 100 families were evicted by the QC government citing unlawful occupation of the road right-of-way.
The local government said the land is owned by the Department of Public Works and Highways and is intended for road widening.
Residents initially formed a human barricade outside their homes, but they were overpowered and brushed aside by authorities. Police made a few arrests. Despite the tension, violence was generally averted.
Affected families condemned the demolition, saying they were not informed about the plan to evict them today. Residents were seen rushing to gather their belongings before their houses were dismantled.
Jack Jacutin, Head of Task Force Copriss, said negotiations with the settlers have been going on for the past three years.
"Limang daan pamilya dati yan, yung 400 na-relocate na sa Montalban. May schedule na ng demolition 4 months ago, nung nag break-down ang negosasyon, itinuloy na namin. Marami nang notice na binigay dati pero hindi talaga namin ipinaalam ngayon kasi baka makapaghanda pa sila," Jacutin said.
Jacutin admitted that they did not have a court order to enforce the demolition. They insisted however that the area was a danger zone and immediate relocation was needed.
The houses also lie within the Quezon City Central Business District (QCCBD), but Jacutin denied that the demolition had anything to do with the massive development project.