UFC 148: Sonnen calls Silva 'amateur'
Posted at 06/26/2012 11:01 PM | Updated as of 06/26/2012 11:01 PM
MANILA, Philippines – Chael Sonnen upped the tempo of his bitter feud against arch nemesis Anderson Silva by calling the Ultimate Fighting Championship (UFC) middleweight titlist an amateur.
Sonnen is set for a much-awaited rematch against Silva in UFC 148 on July 7, and he is not holding his punches even outside the Octagon.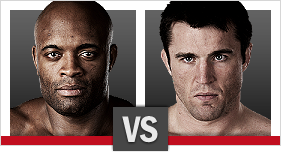 Silva vs. Sonnen
"I think Anderson's a really good setup guy. He uses a lot of movements and motions to set guys up. But at the end of the day, his skills are amateur. If you walk into a fist fight with your hands down, then that's amateur," said Sonnen in UFC.com.
Sonnen nearly beat Silva in 2010 during an all-out Octagon battle in UFC 117, dominating the Brazilian striker in nearly all of five rounds.
But Silva came through and trapped Sonnen in a triangle arm bar, forcing the latter to tap out.
"All that happened was Anderson found himself in a fight for the first time," maintained Sonnen.
"I treated him like an amateur the first time and he's going to look like an amateur this time."
Sonnen said, unlike in their first face-off, the rematch will be more important.
He stressed that more than the middleweight title, pride and face are at stake.
"I'm not playing around. He thinks it's funny to say he's going to break my face. Tell him I have two words for him 'medium rare,'" said Sonnen.
UFC 148: Silva vs Sonnen II will be aired in the Philippines on BALLS Channel on Sunday starting at 10:30 a.m.
There will also be replays on Studio 23.